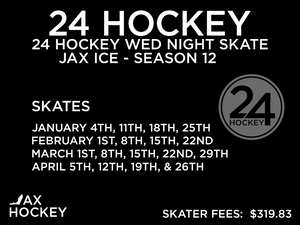 Jax 24 Hockey
JAX ICE - SEASON 12 WED NIGHT SKATES - 24 INVITE - PLAYER
Regular price
$319.83
$0.00
Info:
Sessions - 17

17 -- 1 hour and 15 min sessions

Dates / Times - See Attached Flyer
Organized by 24 Hockey. 
This is skate consist of 24 USA Hockey Registered Players, it is well organized skate, it is divided into two even teams, it is a fast paced skate, and it is a lot of fun.
Must be registered with USA Hockey to participate.
Price Total - $310.25 Ice Fees + $9.58 Processing Fees = $319.83
Skill:
Players of all ages with Upper Level (A) Experience.
This skate is filled by invitation only.
If you would like to get on the waiting list please email 24 Hockey at 24hockey@24hockey.us
Disclaimer:
In the unlikely event that Jax Ice would need to cancel our skate(s) for some unforeseen reason, one of or all of the 17 scheduled ice times stated above, and you miss your scheduled skate as a result, then you will either: A) Receive a refund in the amount of $18.81, (minus processing fees)

 

to compensate for the ice time missed or B) Your ice time will be rescheduled.
24 Hockey plans to run these ice times under USA Hockey.  You must register with USA Hockey and provide your USA Hockey Number to 24 Hockey prior to your first skate.
For any other reason, other than these skates not being scheduled or taking place, your payment for this ice time is non-refundable.
This is an invite only skate.  If you purchase a skate with this group prior to obtaining approval, or signup from 24 Hockey (or without being invited), 24 Hockey reserves the right to issue a refund for your purchase without question or dispute.  When your refund is processed, your monies will be refunded in full minus any processing fees - which may vary by skate but can be up to 5% of your payment price.
---
More from this collection